On Demand Video Streaming The New Trend Of Netflix Video Streaming That You Should Know
The old concept of prime time has changed over time. Viewers today have a vast catalog of content to choose from, and there are certainly more places to watch the content, too.The viewership of traditional TV is falling apart as the OTT platform is offering high-level customization to the content browsing experience. OTT refers to over-the-top devices that use the internet instead of traditional cable TV to broadcast and watch TV content. In 2019 alone, there are over 182 million OTT subscribers in the US. In this article, we are going to discuss eight powerful trends that have influenced the growth of video streaming. From cutting-edge business models to sophisticated video streaming technologies, we will talk about everything responsible for bringing OTT to the masses.
Why You Need A Video Streaming Application And A Streaming Platform ?
Increasing Demand For Originals
Netflix changed the game by rolling out House of cards, its first original web television series. The streaming giant has put more emphasis on its programs over the last few years with over 100 Netflix originals. Orange is the new black, American Vandal, Stranger things, Russian doll, Master of none, are some of the popular Netflix originals loved by the audience. Millennials and the new-gen audience are preferring VOD streaming platforms because of the exclusive original content.
Mobile Surpassing TV as a Primary Content Consumption Medium
Not everyone today watches TV shows on a conventional TV screen. People prefer to watch TV shows and movies on the go on mobiles and tablets. Mobile is emerging as a dominant content consumption channel. For example, a viewer who watches Game of Thrones in his TV screen while at home, whereas streams content directly from mobile devices while traveling.
AI to Make Streaming Better
The OTT industry is expected to leverage the power of artificial intelligence through recommendation engines. The recommendation engine is nothing but an AI-driven extension that keeps a tab on user activities and recommends customized content to subscribers. This offers your subscribers with a personalized viewing experience curated by a combination of user behaviors like content browsing trend, viewing pattern, when they prefer to watch, preference of genre, etc.
The Growth Of Niche Services
For the past decade, the OTT market has been dominated by giants like Amazon Prime, Netflix, and soon Apple and Disney will enter the scene. Recently it's been clear that there is a real opportunity for a niche video content market. Niche platforms are ultra-specialized video-on-demand platforms that directly aim for a targeted audience. They offer independent cinema, niche sports, documentaries, fashion, luxury, children's animated content, and Auteur cinema, etc. Niche platforms bring together active customers of similar interests around the content that excites them. Be advised that consistency and regular renewal are the keys to success for niche services if you are planning on launching your OTT Platform.
Content Goes Hand in Hand With Distribution
The OTT platforms not only focus on the content but also on the distribution side. Those who benefit from the widest distribution will have better chances of winning the stream services competition. For example, Apple plans to launch its own streaming services during fall 2019. Even if it is late to the scene, it can count on its 1.4 billion devices that are already in the market and one its final resources with avid support of Hollywood studios.
Similarly, AT&T relies on its network of subscribers to promote its warner media services that merge the HBO channel with the turner channels. To establish in the market for long term and to consolidate the business, distribution is an important aspect for OTT platforms.
The Cloud Revolution
Till a few years back, OTT VOD streaming was a risky affair, but thanks to the cloud revolution, new opportunities arise as cloud simplifies workflows, reduces maintenance, and seeds funding. The development of cloud solutions significantly lowered the costs associated with technical implementation. With that said, now just a 2k subscriber base is sufficient enough to cover the technical costs. This also allows broadcasters to reduce the costs and improve efficiency to a greater level. OTT platforms can be launched and grown quickly without compromising the service quality.

WHY YOU NEED A VIDEO STREAMING CLONE

VIDEO STREAMING Clone Script to Start Your own OTT Platform & VOD!
A Complete White-Label Solution For Your Business Venture.
Develop your own video streaming app on great budget with a Netflix clone script. Launch the simplest streaming app for your users and providers with a strong admin dashboard with which you'll modify and integrate features at any time.


Video Streaming Website Clone Features For A Seamless Integration
Upload Videos
Upload a video from the panel. Upload video from Youtube, Manual Video Upload, Amazon AWS or Website Link.

Profile Settings
The user can manage profile settings to update their billing information, membership, profile etc.

Watchlist
Netflix clone user can add the videos to watchlist to view that video later.

Subscription Plan
Our Netflix Clone allows you to monetize your content. A user with Paid subscription plan only will be able to view full content.

Native iOS & Android App
Our scripts come with Native Android & iOS app. This makes it handy for the user to view content on their preferred smartphone.

Log in using Social Media
A user can Register or Login using social media like Facebook, and Google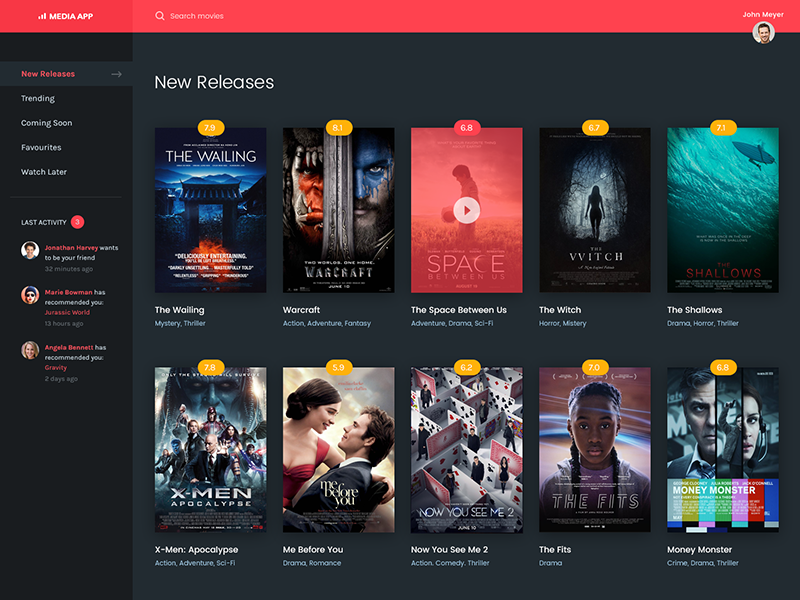 Advanced Features Of The Video Streaming Clone
APP USER

Login /Register
A User will be able to register or Login to view the video content.

Watchlist
The user will be able to add videos to watchlist to see it later.

Choose Plan
The User will be able to choose a plan according to their need in our Netflix clone. They can later change the plan from the profile settings menu.

Search Video
A User will be able to search video by Name, genre or Title.
ADMIN PANEL

Dashboard
See the latest users, content and other data on the dashboard.

Manage Users
Manage user & their subscription package from the admin panel

Video Management
Upload video, banner video and ban any video if it violates the policy

Subscription Plan
View and Manage Subscription Payment, Pay per view in Netflix clone script.

Site Settings
Manage site settings, commission, PPV, Payment gateway keys etc. from the admin panel.

Manage Categories
Add/ Edit new categories. You can also add cast and crew on the admin panel of Netflix clone.
OTT WEBSITE

Login /Register The user will be able to register and Login to their account. They can also use Facebook and Google to directly login.
Add Items to Watchlist The user will be able to add video to watchlist to see it later.
Select a Package Select a subscription package according to your need
Manage Profile Manage user profile and preference for Netflix clone from the manage profile section
Create Watchlist Create your watchlist by adding videos to your watchlist to view them later in Netflix clone
SEO Optimize Page All the pages in Netflix clone scripts are SEO Optimised